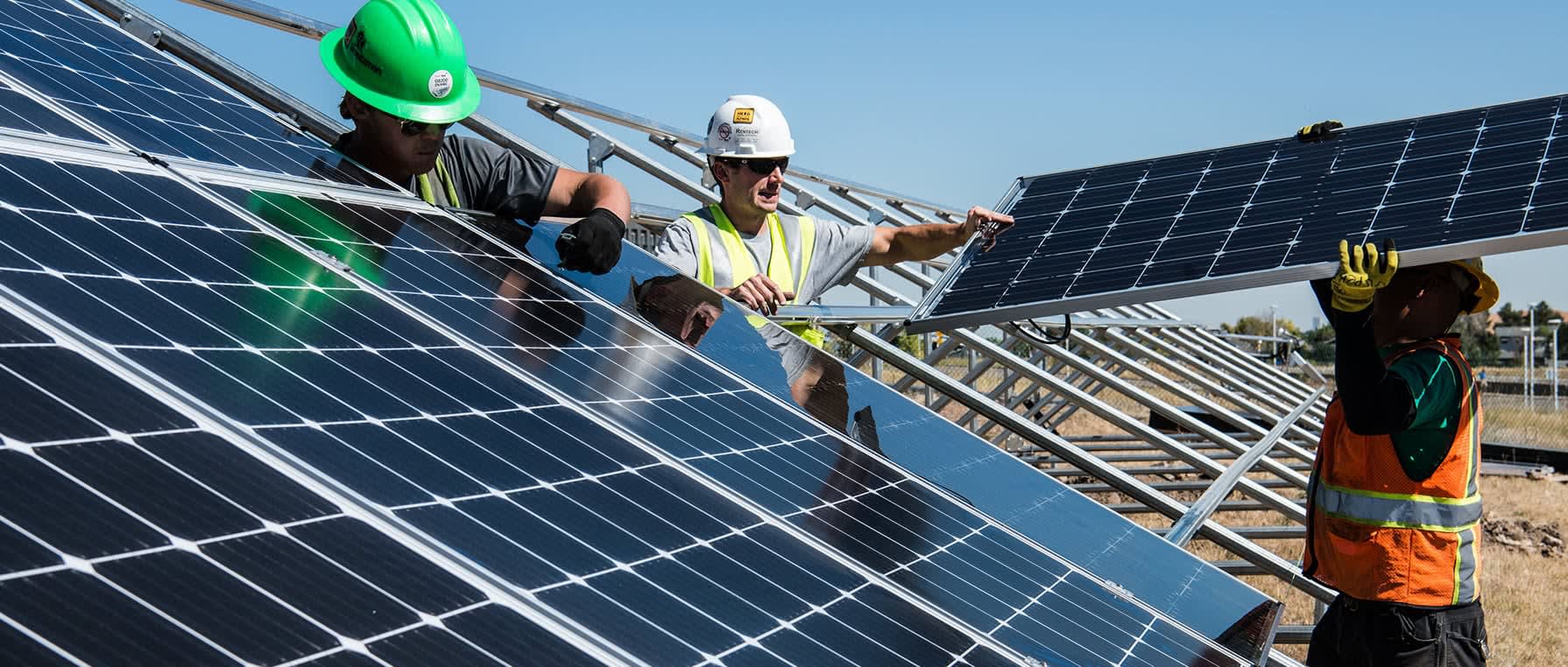 2018 California Renewable Energy Request for Proposals (RFP)
East Bay Community Energy ("EBCE") is soliciting competitive proposals for the sale and purchase of renewable energy. All submissions are due by June 29, 2018 at 1:00 PM PT.
EBCE is a Community Choice Aggregator that is beginning to serve municipal, commercial, and residential customers in 2018. Through this RFP, EBCE seeks to identify and enter into one or more long-term Power Purchase and Sale Agreements (PPAs), to meet a portion of its electric energy needs in 2019 and subsequent years.
Through this RFP, EBCE seeks to secure up to 1,000,000 MWh per year of renewable energy. It intends to secure no less than 20 MW of renewable generation within Alameda County. The RFP is open to projects with deliveries beginning between January 2019 and December 2022. Within Alameda County, projects must be 3 MWac or larger; outside of Alameda County, projects must be 10 MWac or larger.As described in the RFP, EBCE embraces creativity and encourages Bidders to present services, product offerings, and contract terms in addition to standard offerings to help EBCE maximize market opportunities and mitigate market risks.
RFP Schedule
| Event | Target Date |
| --- | --- |
| Issuance of RFP | Monday, June 4, 2018 |
| Deadline to submit questions for webinar | Tuesday, June 12, 2018 at 1:00 PM PT |
| Bidder webinar | Thursday, June 14, 2018 at 11:00 AM PT |
| Deadline to submit Notice of Intent to Bid Form | Friday, June 15, 2018 at 1:00 PM PT |
| Responses to webinar questions provided | Monday, June 18, 2018 |
| Final deadline to submit emailed questions | Friday June 22, 2018 at 1:00 PM PT |
| Responses to additional questions provided | Tuesday, June 26, 2018 |
| Proposals Due to EBCE and Edison Energy | Friday, June 29, 2018 at 1:00 PM PT |
| Notification of final shortlisted Bidders (Tentative) | September 2018 |
| PPA negotiations | September-November, 2018 |
| Final contract approval | December 2018 |
| Execution of PPA | December 2018 |
RFP MATERIALS
EBCE California Renewable Energy RFP Revision 1 (PDF) (PDF)
Updated item: Capacity of the energy storage ask (page 5)
Exhibit A: Notice of Intent to Bid Form (Word)
Exhibit B: RFP Participation Agreement (Word)
Exhibit C: Proposal Offer Form Revision 1 (Excel)
Updated items: Addition of rows for non-conforming assumptions and notes on the "Bid" tab
RESOURCES
EBCE conducted a webinar to present the RFP protocol and take prospective bidders' questions. The materials from this webinar and a recording of the webinar are now available.
RFP GENERAL PROVISIONS
Bidders who submit proposals agree to do so without legal recourse against EBCE, its Board, officers, employees, agents, advisors or contractors for rejection of their proposal(s) or for failure to execute an agreement for any reason.

Bidder agrees that EBCE will not be liable to any Bidder or party at law or in equity for any reason whatsoever for any acts or omissions arising out of or in connection with this RFP.

By submitting its bid or proposal, Bidder waives any right to challenge any valuation by EBCE of any proposal of any Bidder or any determination of EBCE to select or reject any proposal of any Bidder or take any action contemplated by this RFP, any other decision of EBCE contemplated by this RFP or any resulting agreement related to a selected proposal.

Each Bidder, in submitting its proposal(s), irrevocably agrees and acknowledges that it is making its bid or proposal(s) subject to and in agreement with the terms of this RFP.

EBCE will only accept questions from Bidders up to the deadline to submit questions noted in the RFP Schedule. All answers will be circulated to Bidders who submit an NOI (please do not include proprietary or company-identifying information in submitted questions). EBCE reserves the right to combine, rephrase, or not respond to some questions.

All questions and materials received by EBCE are subject to the confidentiality provisions in the RFP.