Bright Choice rates now 3% below PG&E
We've increased the discount for Bright Choice, lowered the premium for Renewable 100, and have a lot more exciting budget news.
Learn more about EBCE's 2022-2023

budget
Business Programs
Make the switch to electric vehicles
EBCE is helping local businesses make the transition to electric vehicles with rebates on eligible charging equipment and installation costs.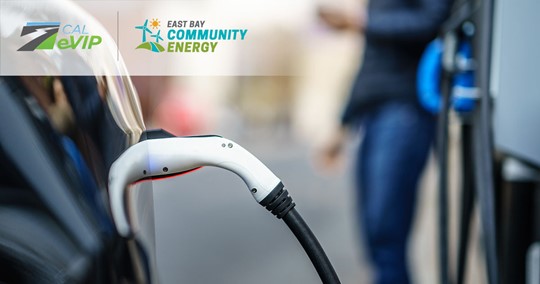 Driving electric supports the communities you serve
The transportation sector remains the single largest contributor of health-impacting air pollutants in Alameda and San Joaquin counties. Electric vehicles are safe to drive — and boost the health of our communities. They also save drivers money! When paired with EBCE's clean electricity, the cost to refuel electric vehicles can be a fraction of the cost of gasoline or diesel.

Light-duty electric vehicle charging station rebates
Over $5 million is currently available!
EBCE is making electric vehicle charging more accessible through a partnership with the California Electric Vehicle Infrastructure Project (CALeVIP). Save on Level 2 charger purchases and installation costs with rebates for businesses, fleets, workplaces, apartment communities and more.
With this affordable electric vehicle charging opportunity, you can:
Boost property value

Attract more customers to your business

Increase dwell times at your business

Provide a green amenity to employees, tenants, and customers

Meet organizational sustainability goals
Many businesses and organizations can qualify
Owners, managers and authorized agents of the following property types can qualify for rebates.
Businesses and commercial properties

Workplaces

Multifamily properties

Nonprofits

Public agency-owned properties

Higher education and K-12 school districts
Find your rebate
To learn more about available incentive in Alameda County and the City of Tracy, please visit:
Applications will be approved ona first-come, first-served basis.
If you are new to electric vehicle charging, CALeVIP has created a list of service providers to assist with developing a charging project for your site. To access that list, please visit calevip.org/find-an-evsp
EBCE's Alameda County Incentive Project is co-funded and presented in partnership with the California Energy Commission .
Additional incentives for light-duty passenger electric vehicles are available at Electric for All.

Medium and heavy-duty fleet electrification
Alameda and San Joaquin counties have among the highest volumes of commercial truck traffic in California. Electrifying your medium and heavy-duty fleet reduces air pollutants, saves money on fuel and maintenance costs, and improves community health. EBCE is supporting our commercial customers to transition to driving electric by providing:
free fleet electrification technical assistance to help you understand which vehicles and charging infrastructure are right for your day-to-day operations

concierge services that simplify applying for available incentives and rebates
Interested in electrifying your fleet? Let us know, we are here to help!
Click here to get in touch
For more information about the most up-to-date vehicle and charging infrastructure incentives for medium and heavy-duty commercial fleets, on and off-road, visit:
Energy infrastructure Incentives for Zero-Emmission Commercial Vehicles (EnergIZE)

Utility electrical infrastructure planning and incentives
Click here to get in touch
Renewable energy for charging network providers
EBCE collaborates with charging networks providers to enable drivers to power their electric cars with 100% renewable energy.
EBCE is the first load-serving entity in the state to receive approval from the California Air Resources Board to register its 100% renewable energy product (Renewable 100) as a certified pathway in the Low Carbon Fuel Standard program. This means that charging network providers can capture highly valuable Low Carbon Fuel Standard credits that were previously only accessible through the purchase of renewable energy credits.
If you are a charging network provider and are interested in opting your charging stations up to our Renewable 100 service, let us know!
Click here to get in touch