Bright Choice rates now 3% below PG&E
We've increased the discount for Bright Choice, lowered the premium for Renewable 100, and have a lot more exciting budget news.
Learn more about EBCE's 2022-2023

budget
The Medical Baseline program provides reduced energy rates for EBCE's customers with serious medical conditions.
More than 10,000 EBCE customers rely on electricity for their essential medical equipment. If you have a serious medical condition, you can have your electricity billed at EBCE lowest rate through the Medical Baseline program. The Medical Baseline discount applies to your gas service too.
Medical Baseline customers can receive up to $1,700 in rebates for the purchase of a backup battery power station.
What is Medical Baseline?
The Medical Baseline program helps people who have serious medical conditions and/or medical equipment that can make it hard to afford their monthly bill.
Medical Baseline customers get a special "Baseline Allowance"—a set amount of kilowatt-hours of electricity each month charged at a reduced rate.
Eligibility for the Medical Baseline program is based on medical condition and/or use of medical devices only—not on income. Anyone who lives in their home full-time can qualify for this program.
Baseline Allowance
Customers enrolled in Medical Baseline get an allocation of 16.438 kWh/day at the lowest price (Tier 1) rates. For a typical Medical Baseline customer, that provides $30.35 per month of savings. This discount applies to all of EBCE's Medical Baseline electricity customers.
Medical Baseline customers are partially exempt from paying the PCIA fee to PG&E, which amounts to an additional average discount of $19 per month.
Our residential electricity customers—including those enrolled in the Medical Baseline program—also benefit from an additional 1% of savings because EBCE's Bright Choice service offers lower rates than PG&E.
RECENT CHANGES TO THE WAIVED FEE
The CPUC has authorized PG&E to eliminate the PCIA exemption for EBCE and other exempt customers, and will introduce the fee over a four-year period starting in 2022. When this begins, EBCE Medical Baseline customers will still save more money each month than they would have with PG&E, but the amount of savings will decline until 2026 when Medical Baseline customers on EBCE and PG&E service will pay the same amount.
Backup Battery: Limited Time Offer!
EBCE customers are eligible for up to $1,700 in rebates on the purchase of a GoalZero Yeti 3000X Portable Power Station to help prepare for power outages.
If you rely on electric or battery-dependent medical technologies, it is critical that you have a plan in place for an extended power outage.
Backup electric power can be part of any preparedness plan. EBCE Customers who depend on medical equipment at home can prepare for potential outages with a portable power station.
East Bay Community Energy (EBCE) has a limited number of rebates for portable backup batteries available to eligible Medical Baseline customers on a first come, first served basis.
Apply now to receive up to $1,700 off the cost of a Goal Zero Yeti 3000X Portable Power Station—safe, clean backup electricity to enhance your emergency preparedness in the event of a grid outage.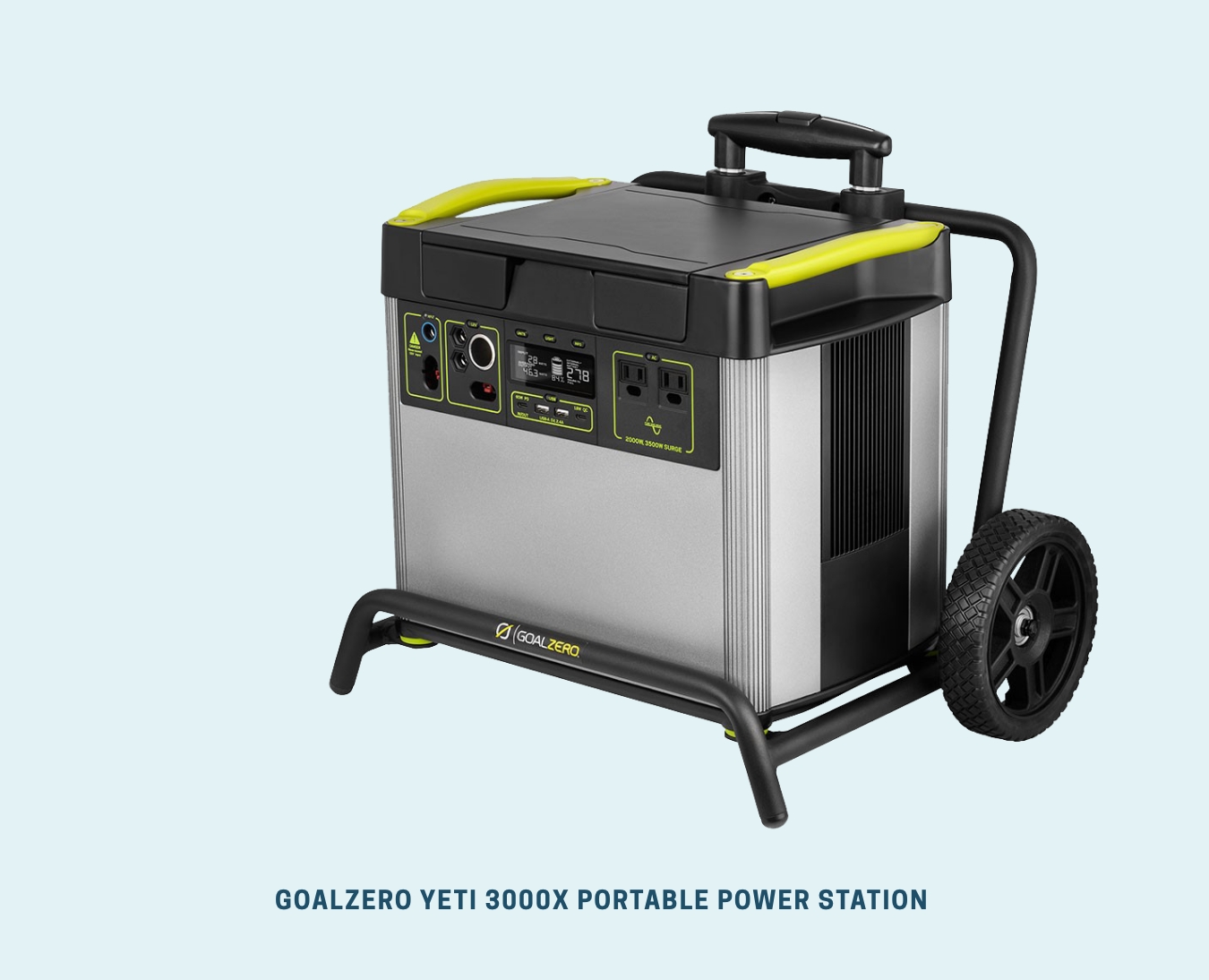 EBCE's $1,000 rebate can be paired with a separate $700 rebate from PG&E for the Goal Zero Yeti 3000X Portable Power Station—a combined savings of $1,700!
If you have questions or need assistance completing the application please contact energyresilience@ebce.org or call EBCE at 1-833-699-3223, 9AM–5PM on weekdays.
Eligibility

To qualify for EBCE's $1,000 rebate, you must meet all of the program requirements:
• Active EBCE electricity customer, and
• Enrolled in the Medical Baseline program, and
• Have an electricity-dependent medical device at home.

To qualify for the $700 rebate from PG&E, you must reside in a designated High Fire Threat District.

Where to purchase

Low interest financing

Documents needed to apply

1. Receipt or invoice as proof of purchase for your GoalZero Yeti 3000X Portable Power Station.

2. Your utility Service Account ID; this can be found on your most recent PG&E bill where EBCE will be listed as your electricity provider.
More on Medical Baseline
Learn more about the Medical Baseline allowance, its benefits, and how to apply by visiting PG&E's webpage. When you enroll in the program, the Medical Baseline discount will automatically be applied to EBCE's electricity service.