Our community
Transitioning to Renewable Energy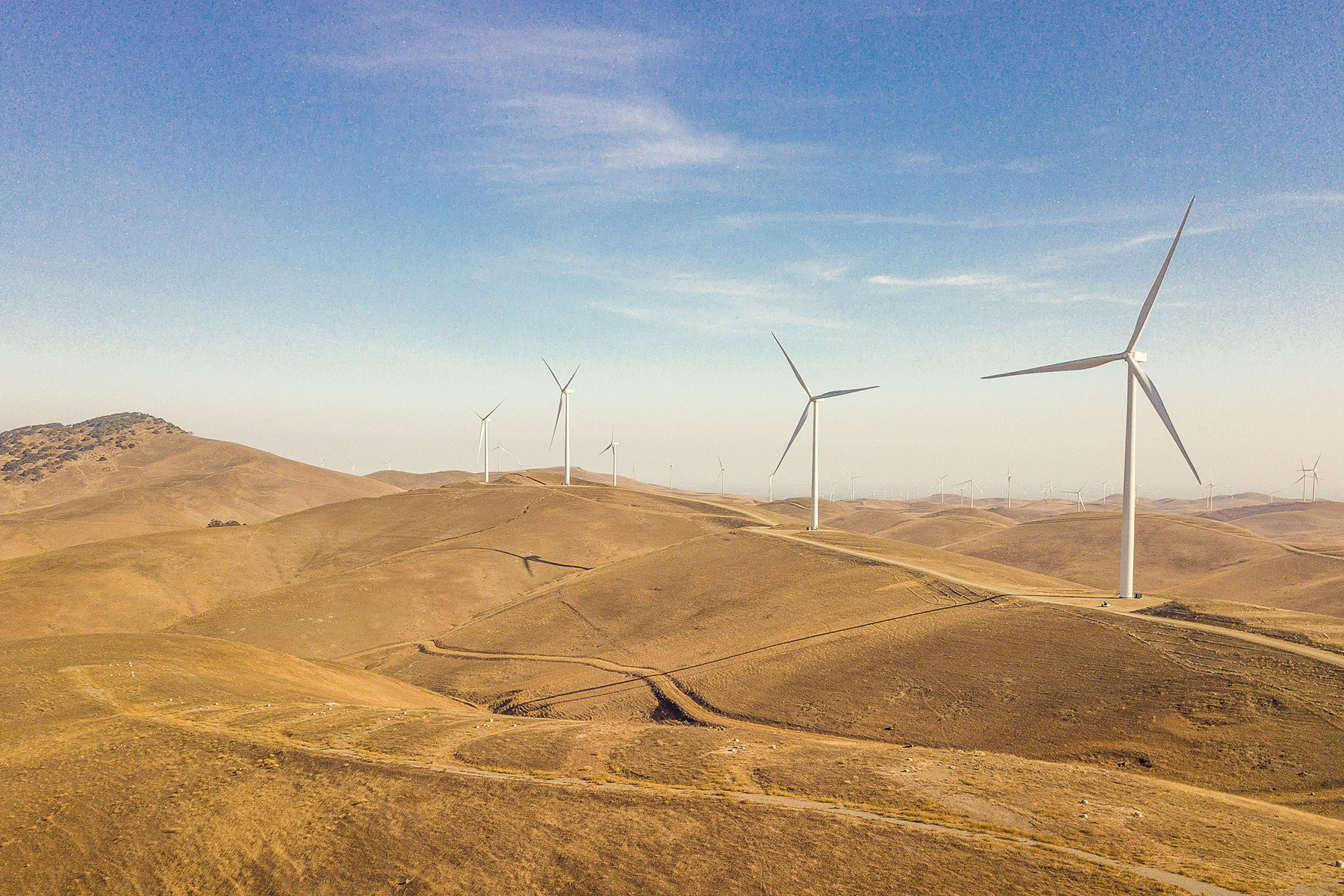 East Bay Community Energy's power mix is mostly sourced from renewable energy and large hydropower. Our Board of Directors have established the goal of purchasing 100% clean power by 2030 — a full 15 years before the state's goal date.
Meanwhile, some of EBCE's member cities have taken the bold action of transitioning customers in their jurisdiction onto 100% renewable energy service immediately, to accelerate the reduction of emissions and hasten the investment in wind, solar, and battery storage projects. In doing so, these cities set the "default" service level for customers as Renewable 100, EBCE's service that is sourced from 100% California wind and solar, including the output of EBCE's Scott Haggerty Wind Energy Center in Livermore. Any EBCE customer can choose our Bright Choice service if they prefer to save money on their PG&E bill each month.
Concurrently, EBCE phased out our Brilliant 100 option in January 2022. Customers on Brilliant 100 were placed onto EBCE's Bright Choice service unless specified otherwise by a city transition plan listed below.
Bright Choice

Brilliant 100 – Ending 2021

Renewable 100
KEY

Wind

Solar

Hydro

Biomass & Biowaste, Geothermal, Eligible Hydroelectric

Other or Unspecified

Nuclear

Eligible Renewable
Service levels transitions
City/County

Initial Default Service

2022 Default Service

Transition Details

Albany***
Residential: Brilliant 100
Commercial: Brilliant 100
Renewable 100 – January 2022*
Renewable 100 – January 2022
www.ebce.org/albany
Berkeley
Residential: Bright Choice
Commercial: Bright Choice
Renewable 100 – March 2022*
Renewable 100 – October 2022
www.ebce.org/berkeley
Dublin
Residential: Bright Choice
Commercial: Bright Choice
Renewable 100 – January 2022*
Bright Choice – January 2022
www.ebce.org/dublin
Emeryville
Residential: Bright Choice
Commercial: Bright Choice
Bright Choice – January 2022
Bright Choice – January 2022
No transition planned
Fremont
Residential: Bright Choice
Commercial: Bright Choice
Bright Choice – January 2022
Bright Choice – January 2022
No transition planned
Hayward***
Residential: Brilliant 100*
Commercial: Brilliant 100
Renewable 100 – January 2022*
Renewable 100 – January 2022
www.ebce.org/hayward
Livermore
Residential: Bright Choice
Commercial: Bright Choice
Bright Choice – January 2022
Bright Choice – January 2022
No transition planned
Newark
Residential: Bright Choice
Commercial: Bright Choice
Bright Choice – January 2022
Bright Choice – January 2022
No transition planned
Oakland
Residential: Bright Choice
Commercial: Bright Choice
Bright Choice – January 2022
Bright Choice – January 2022
No transition planned
Piedmont
Residential: Renewable 100**
Commercial: Bright Choice
Renewable 100 – January 2022*
Bright Choice – January 2022
No transition planned
Pleasanton***
Residential: Brilliant 100*
Commercial: Brilliant 100
Renewable 100 – January 2022*
Renewable 100 – January 2022
www.ebce.org/pleasanton
San Leandro
Residential: Bright Choice
Commercial: Bright Choice
Renewable 100 – March 2022*
Renewable 100 – October 2022
www.ebce.org/san-leandro
Tracy
Residential: Bright Choice
Commercial: Bright Choice
Bright Choice – January 2022
Bright Choice – January 2022
No transition planned
Union City
Residential: Bright Choice
Commercial: Bright Choice
Bright Choice – January 2022
Bright Choice – January 2022
No transition planned
Unincorporated
Alameda County
Residential: Bright Choice
Commercial: Bright Choice
Bright Choice – January 2022
Bright Choice – January 2022
No transition planned
* Excludes customers on CARE, FERA, and/or Medical Baseline, who were defaulted to Bright Choice
** Excludes customers on CARE, FERA, and/or Medical Baseline, who were defaulted to Brilliant 100
*** Customers who selected Bright Choice will remain on this service at the time of the 2022 default service transition

To change your service level,
please visit