Join EBCE's Community Advisory Committee
The 2021 application period is now open. EBCE is seeking to fill five vacant and 10 alternate service area seats. If you are interested in being a Community Advisory Committee Member or Alternate, apply before 5:00 pm on Monday, 2/15/2021.
Details and

application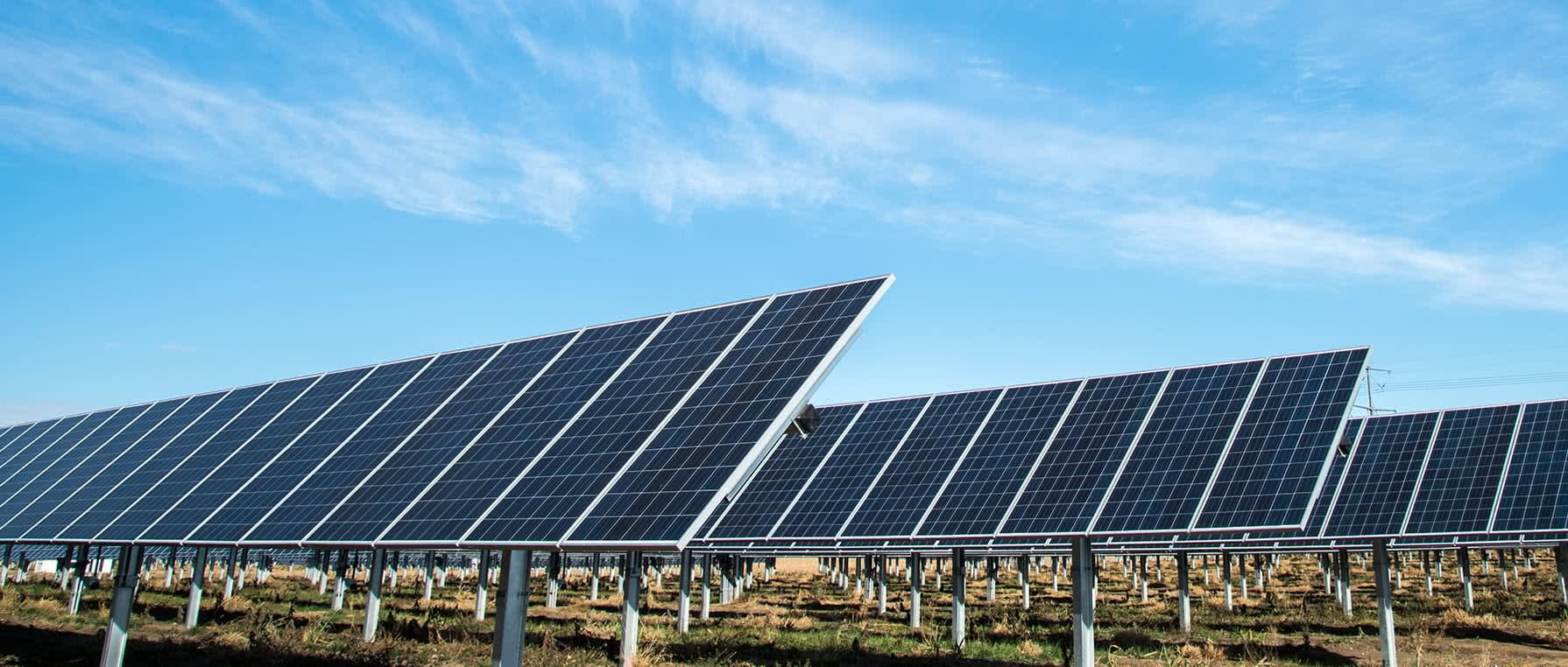 EBCE supplies most of the electricity consumed in Alameda County. At EBCE, providing more renewable energy at lower rates to our customers is a top priority. Buying your electricity from EBCE is a simple way to reduce greenhouse gas (GHG) emissions and meet our community climate action goals.

EBCE is developing local sources of renewable energy. This will not only help create local jobs, but help us build a more sustainable future for our communities. You can learn more about that on our Power Projects page.



Your Options
EBCE offers customers a choice of three services. Each electricity service has a different percentage of carbon-free and renewable energy, with slightly different prices.
Note: Figures reflect EBCE's actual power mix from 2019 (most recently published)
Renewable 100
Get 100% renewable energy from California solar & wind power at a slightly higher price than PG&E
Brilliant 100
Our most affordable carbon-free plan, which costs the same as PG&E
Bright Choice
Our basic plan, which costs less than PG&E
Here are some commonly used terms:
Carbon-free energy – Carbon-free energy refers to energy that, when generated, creates no carbon emissions. Carbon dioxide, which is primarily produced by the burning of fossil fuels for electricity and transportation, is the largest contributor to greenhouse gases. At EBCE, carbon-free energy comes from large hydropower sources.
Renewable energy – Renewable energy is energy that comes from resources that are naturally replenished, create no carbon emissions, and include small hydroelectric, solar, wind, biomass, biowaste, and geothermal sources. At EBCE, renewable energy comes from solar and wind sources.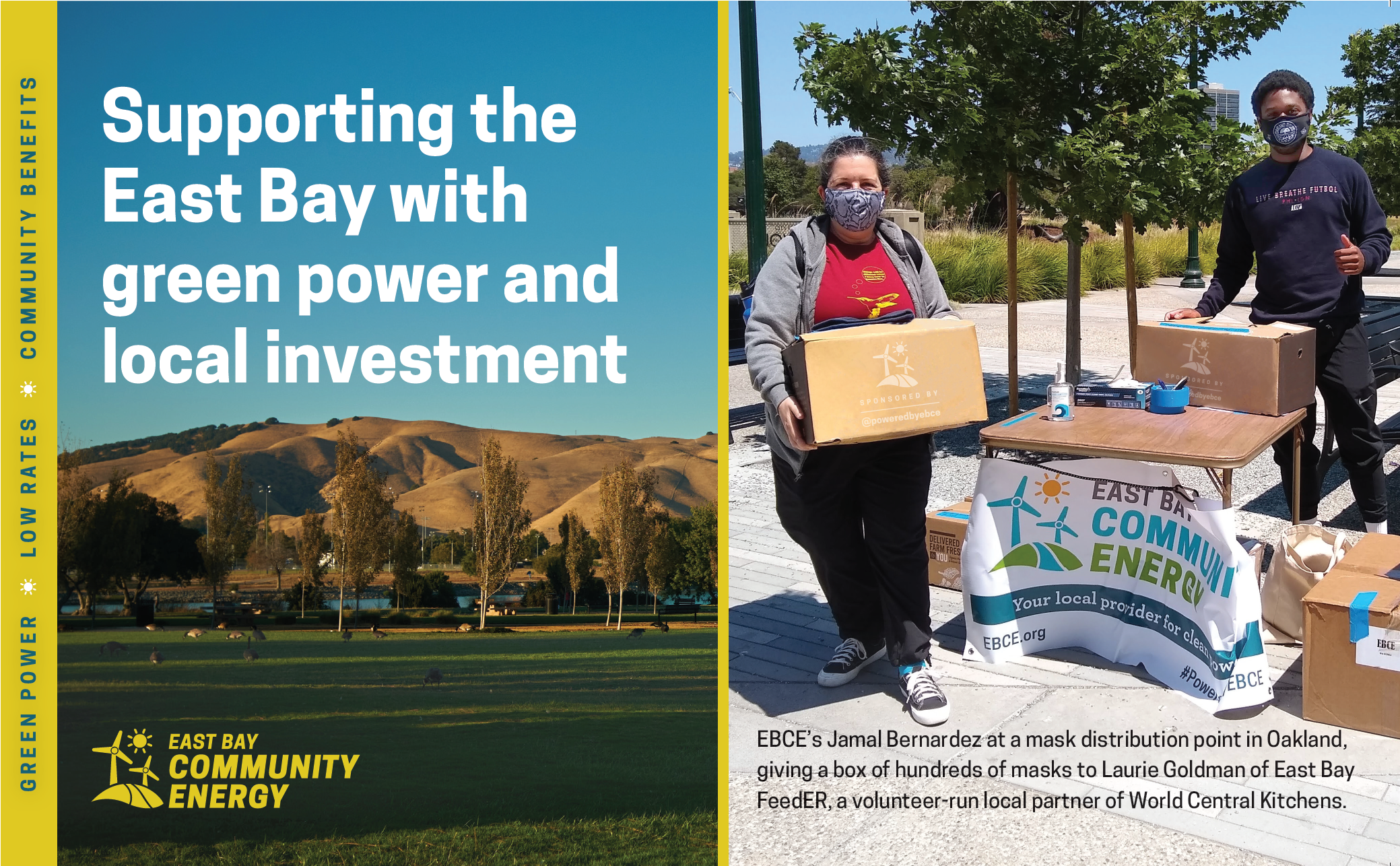 Power Mix
EBCE procures power on an on-going basis. The below table is EBCE's actual power mix from 2019* (most recently published).
Energy Resources
Bright Choice
Brilliant 100
Renewable 100
PG&E
PG&E Solar Choice
Renewable
60%
75%
100%
29%
100%
Biomass & Biowaste
4%
0%
0%
3%
0%
Geothermal
12%
0%
0%
2%
0%
Eligible Hydroelectric
5%
0%
0%
2%
0%
Solar Electric
3%
38%
50%
12%
100%
Wind
36%
37%
50%
9%
0%
Coal
0%
0%
0%
0%
0%
Large Hydroelectric
25%
25%
0%
27%
0%
Natural Gas
0%
0%
0%
0%
0%
Nuclear
1%
0%
0%
44%
0%
Other
0%
0%
0%
0%
0%
Unspecified Sources of Power **
13%***
0%
0%
0%
0%
* PG&E data as reported in PG&E's rate comparison with EBCE.
**Unspecified sources of power refers to electricity that is not traceable to a specific generating facility, such as electricity traded through open market transactions. Unspecified sources of power are typically a mix of all resource types, and may include renewables.

Will these services always be the same?
EBCE began providing service to customers in 2018 with the services and power mix listed above. Over time, as EBCE generates revenue and matures as a business, we will invest in more renewable energy with the goal of developing local renewable energy projects. The power mix and rates will be set annually—our aim is to include as much renewable energy as possible while maintaining affordable rates.

Where is the power coming from specifically?
EBCE's power portfolio is currently under development, but the intent is to purchase as much electricity as possible from sources located in California at prices that remain competitive with PG&E. Please visit our Power Projects page for details. EBCE will report historically to customers about the sources of power we buy in our annual Power Content Label that is mailed to all customers each Fall, and we will update this web page with details as we sign contracts with developers for new renewable energy projects.