Understand Your Energy Bill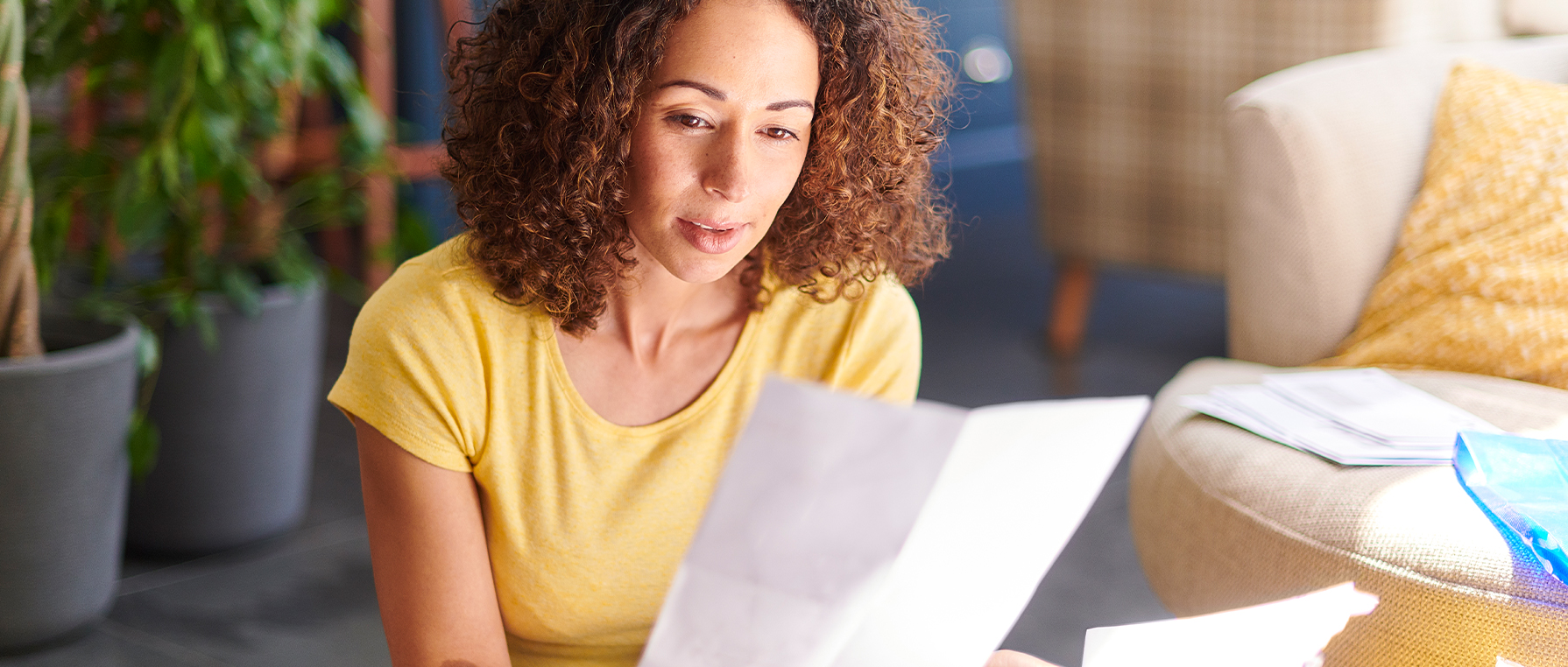 We want to help you understand your energy bill so you can save money and use cleaner energy. As an EBCE customer, you still get your energy bill from PG&E. We can help you understand what the charges are, what they mean, and find more ways to save.
Select the section below that best fits what you're looking for:
How it works
Billing from PG&E

You get a single bill each month from PG&E that includes EBCE charges.

It's Not an Additional Charge

EBCE charges REPLACE the generation charges that PG&E used to charge you. It is not a new or additional charge compared to what you used to pay.

Receive a Monthly Credit

As an EBCE customer, PG&E issues a Generation Credit each month. That credit is the amount PG&E would have charged you for generation services, and it offsets EBCE charges.
Calculate your savings
Use the formula below and refer to the following example bill to compare your PG&E bill (including EBCE service) to what you would otherwise pay PG&E (without EBCE service). Customers on EBCE's Bright Choice plan can expect to pay slightly less than they would have paid PG&E. Customers on EBCE's Renewable 100 service pay slightly more than they would have paid PG&E, but purchase power from 100% California wind and solar.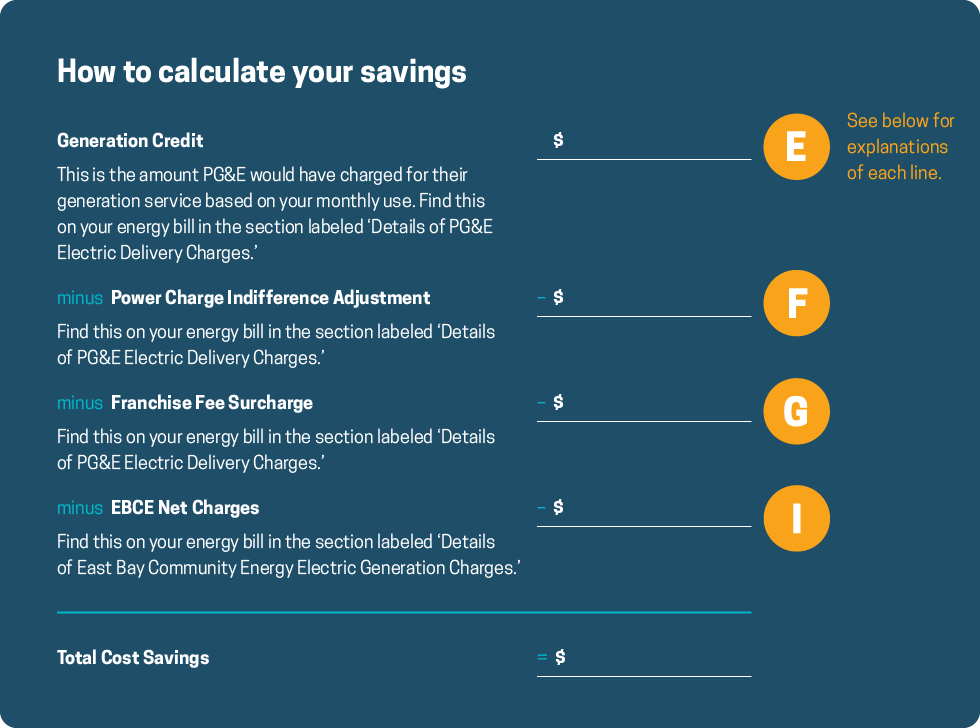 You can download a PDF version to print and calculate your savings on your own.
Understand your bill
Below is a sample bill with call out notes to explain what the different charges mean.
Page 1 of your energy bill
A. YOUR ACCOUNT NUMBER
You will need this number if you change your EBCE service level or choose PG&E service.
B. PG&E DELIVERY CHARGES
This is PG&E's charge to deliver electricity over their transmission lines, maintain infrastructure, and provide other services including their customer service and billing.
C. EBCE ELECTRIC GENERATION CHARGES
This charge covers EBCE's cost of purchasing clean electricity for customers, plus relevant local taxes.
D. TOTAL AMOUNT DUE
This is the total amount you pay to PG&E for all charges from both PG&E and EBCE.
Pages 3 and 4 of your energy bill
E. GENERATION CREDIT
EBCE now provides generation service for East Bay customers, so PG&E credits this charge back to your account to avoid any duplication of generation fees. The credit is what PG&E would have charged you for electricity.
F. POWER CHARGE INDIFFERENCE ADJUSTMENT
PG&E charges EBCE customers a Power Charge Indifference Adjustment (PCIA), which is calculated based on the number of kilowatt-hours used each month. The PCIA is intended to ensure that EBCE customers pay the difference between what PG&E paid for power contracted to serve them prior to their switch, and the current market value of that power. The PCIA charge is factored into EBCE's rate setting process.
G. FRANCHISE FEE SURCHARGE
This fee is collected by PG&E to cover costs associated with rights to use public streets to provide gas and electric service. This fee is factored into EBCE's rate setting process.
H. RATE SCHEDULE
This line shows two things. The initial letter(s) and/or number combination show your rate schedule as determined by PG&E. For residential customers this is commonly E1 or TOUC. After the base rate schedule you will see the EBCE service you are on: Bright Choice. Renewable 100 customers will be charged based on the Brilliant 100 rate and will see an additional line item with the Renewable 100 premium.
I. NET CHARGES
This is the amount EBCE collects for the power that you use.
J. ENERGY COMMISSION TAX
This fee is collected on behalf of the California Energy Commission and applies to all customers, regardless of service provider.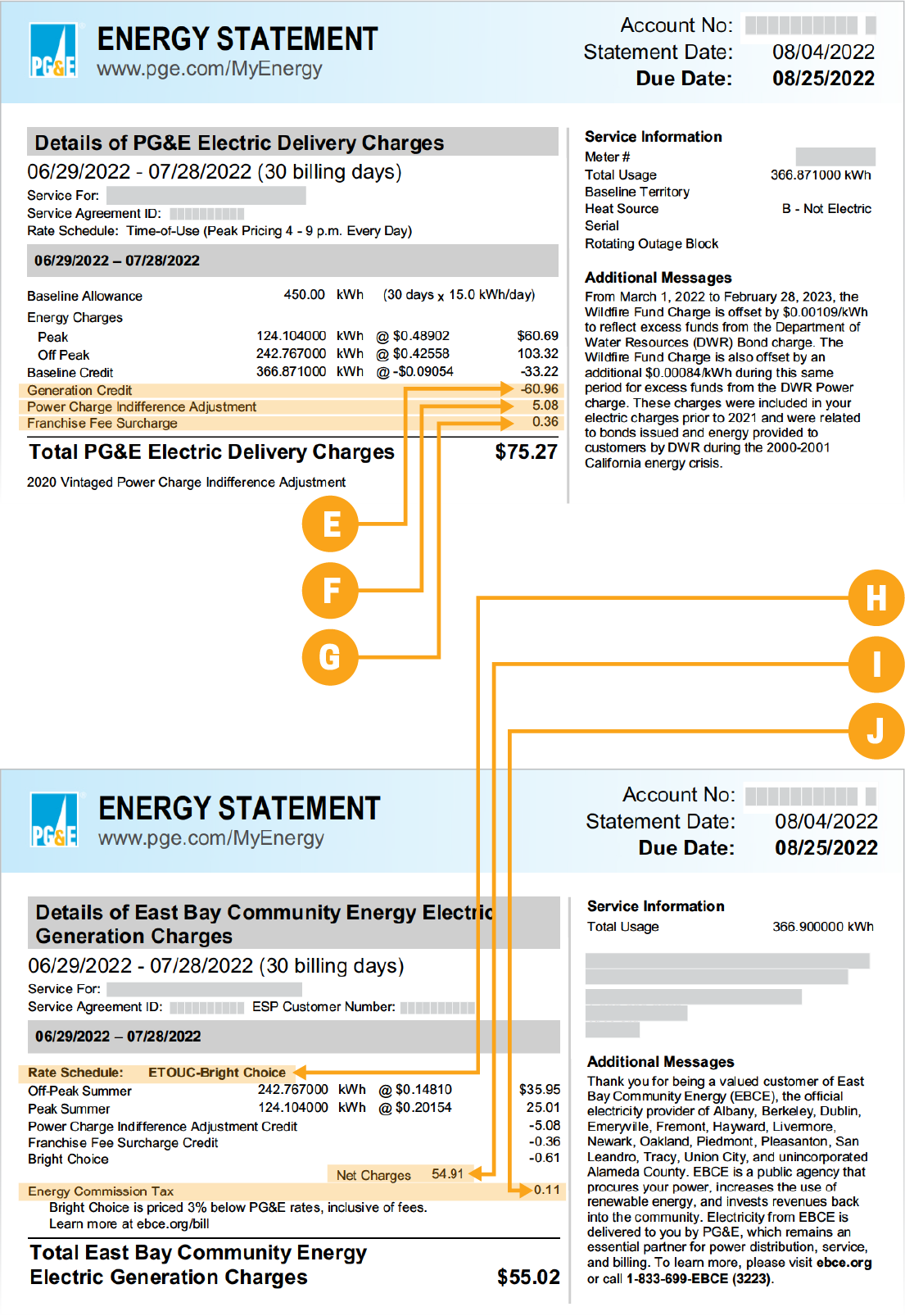 Changes in your bill
Understanding your energy bill and charges can be confusing, and frustrating. Throughout the seasons, energy bills fluctuate as the weather causes more heat or air conditioning to be used. Also, EBCE and PG&E have seasonal rates that vary between winter and summer. Below are some common reasons why your energy bill fluctuates. If you need to have variations in your bill explained, we recommend calling EBCE's call center at 1-833-699-EBCE (3223) on weekdays from 9AM to 5PM.
Increased energy usage
During the pandemic, residential electricity usage has gone up. People are typically home for more hours, using more lighting, doing more cooking, keeping the thermostat set for occupants. Many kids are home, rather than being at school, and they are using devices that need electricity.
Time-of-use rates
As California is moving to Time-of-use (TOU) rates, shifting your energy usage to lower-rate periods may help lower your bill. You can check which rate schedule you are on by contacting PG&E or looking at your PG&E bill, and change your plan if a different schedule works best for your home or business.
PG&E increased transmission and distribution rates
After March 1, 2022, the average monthly PG&E residential gas and electric bill increased by about $14 a month.
Learn more about PG&E rate increases
New fees to pay for wildfire damages
Starting in 2021, PG&E instituted a Wildfire Fund Charge on your bill. This is a charge to fund the state's $21-billion wildfire insurance fund. You will see this new fee on page 7 of your PG&E bill.
Increases in natural gas rates
PG&E residential natural gas rates are 11% higher as of January 2022 compared to December 2021.
Still have questions?
If you still have questions or concerns about your charges or your bill, please give us a call:
1-833-699-EBCE (3223)
Call Monday-Friday 9AM–5PM to speak with a live representative