Understand Your Energy Bill
Learn how to calculate your energy savings from your energy bill.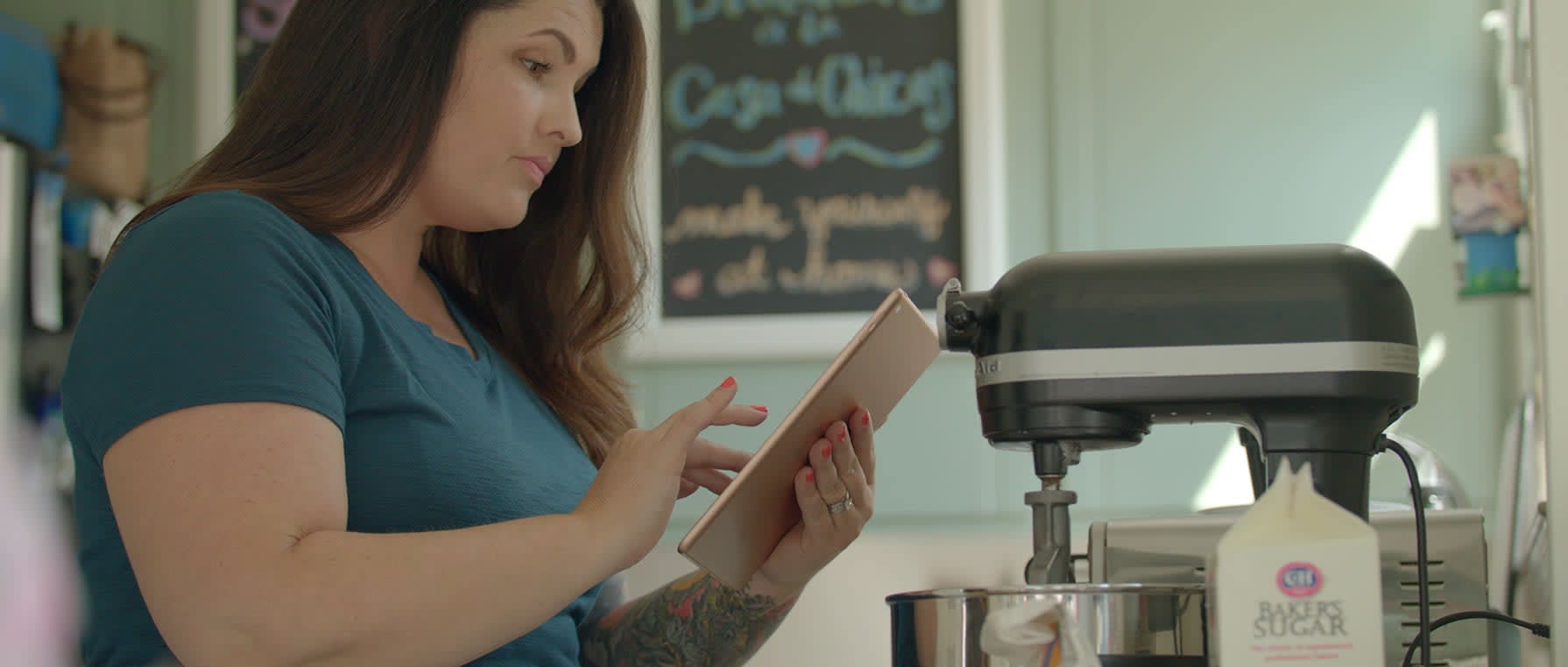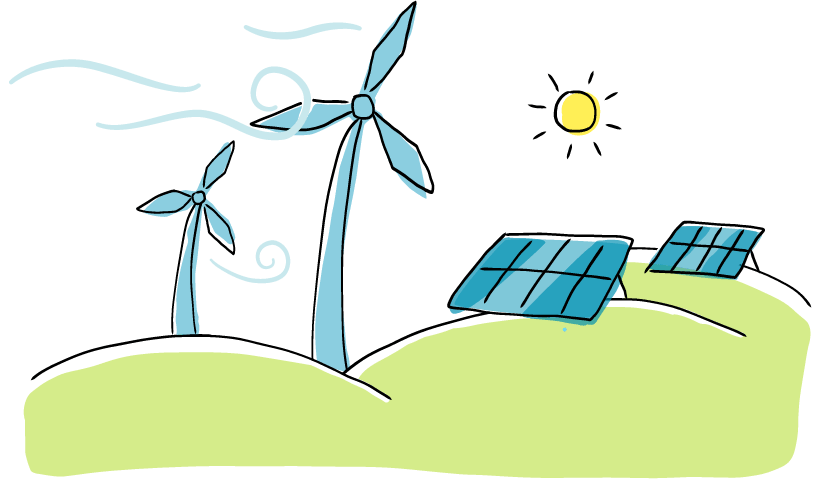 EBCE buys clean power at low rates for East Bay customers.
Customers on EBCE's Bright Choice plan can expect to pay slightly less than they would have paid PG&E. Customers on EBCE's Brilliant 100 service pay the same as they would have paid PG&E, but get a cleaner energy mix.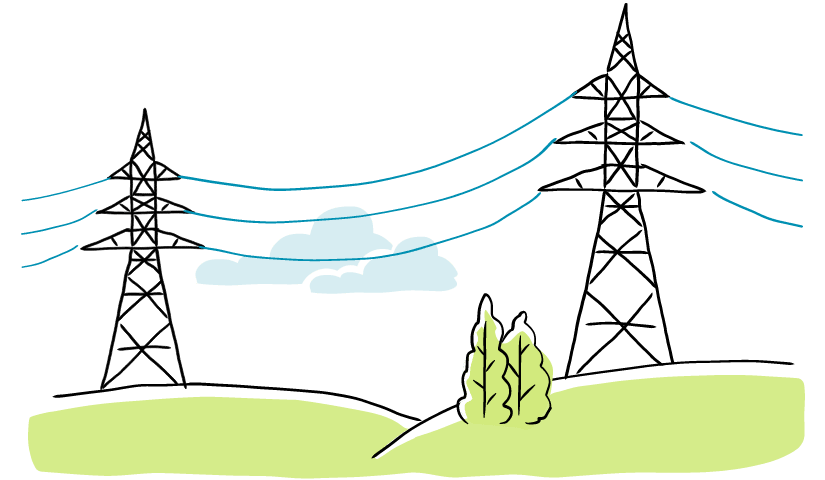 PG&E delivers that power and handles customer billing.
PG&E bills include the same fees, program charges, low-income discounts, and electric delivery rates for all customers regardless of whether they are on EBCE or not. In the East Bay, customers now receive a "generation credit" on the PG&E bill that offsets EBCE charges.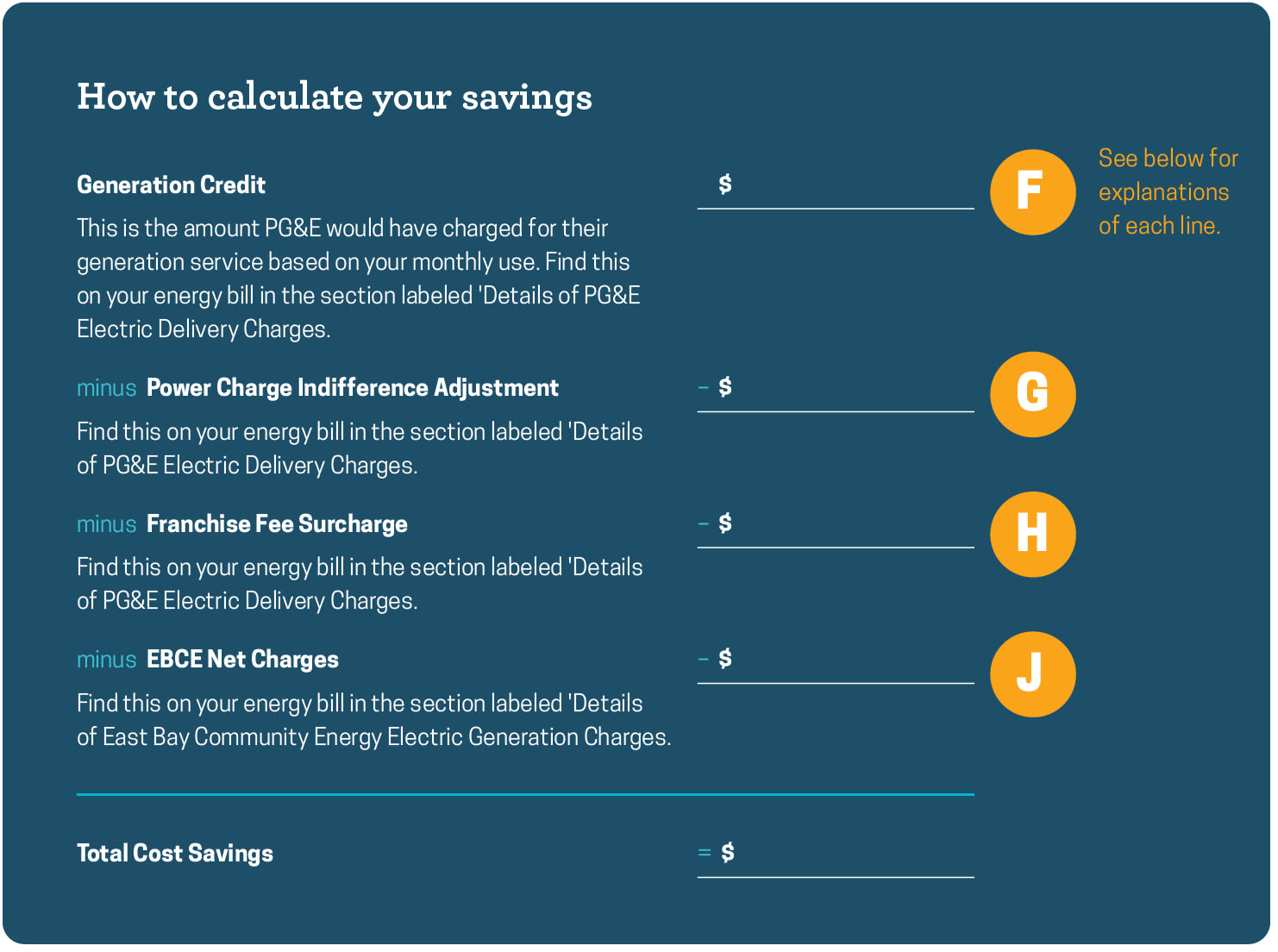 Pages 1 and 2 of your energy bill
A. YOUR ACCOUNT NUMBER
You will need this number if you change your EBCE service level or opt out of EBCE service.
B. PG&E DELIVERY CHARGES
This is PG&E's charge to deliver electricity over their transmission lines, maintain infrastructure, and provide other services including their customer service and billing.
C. EBCE ELECTRIC GENERATION CHARGES
This charge covers EBCE's cost of purchasing clean electricity for customers, plus relevant local taxes.
D. TOTAL AMOUNT DUE
This is the total amount you pay to PG&E for all charges from both PG&E and EBCE.
E. ELECTRIC CHARGES BREAKDOWN
This is the summary of charges from electric generation, distribution and other fees, taxes and programs that fund regional or statewide programs such as assistance and efficiency rebate programs.
Pages 3 and 4 of your energy bill
F. GENERATION CREDIT
EBCE now provides generation service for East Bay customers, so PG&E credits this charge back to your account to avoid any duplication of generation fees. The credit is what PG&E would have charged you for electricity.
G. POWER CHARGE INDIFFERENCE ADJUSTMENT
PG&E charges EBCE customers a Power Charge Indifference Adjustment (PCIA), which is calculated based on the number of kilowatt-hours used each month. The PCIA is intended to ensure that EBCE customers pay the difference between what PG&E paid for power contracted to serve them prior to their switch, and the current market value of that power. The PCIA charge is factored into EBCE's rate setting process.
H. FRANCHISE FEE SURCHARGE
This fee is collected by PG&E to cover costs associated with rights to use public streets to provide gas and electric service. This fee is factored into EBCE's rate setting process.
I. RATE SCHEDULE
This line shows two things. The initial letter(s) and/or number combination show your rate schedule as determined by PG&E. For residential customers this is commonly E1 or TOUC. After the base rate schedule you will see the EBCE service you are on: Bright Choice or Brilliant 100. Renewable 100 customers will be charged based on the Brilliant 100 rate and will see an additional line item with the Renewable 100 premium.
J. NET CHARGES
This is the amount EBCE collects for the power that you use.
K. ENERGY COMMISSION TAX
This fee is collected on behalf of the California Energy Commission and applies to all customers, regardless of service provider.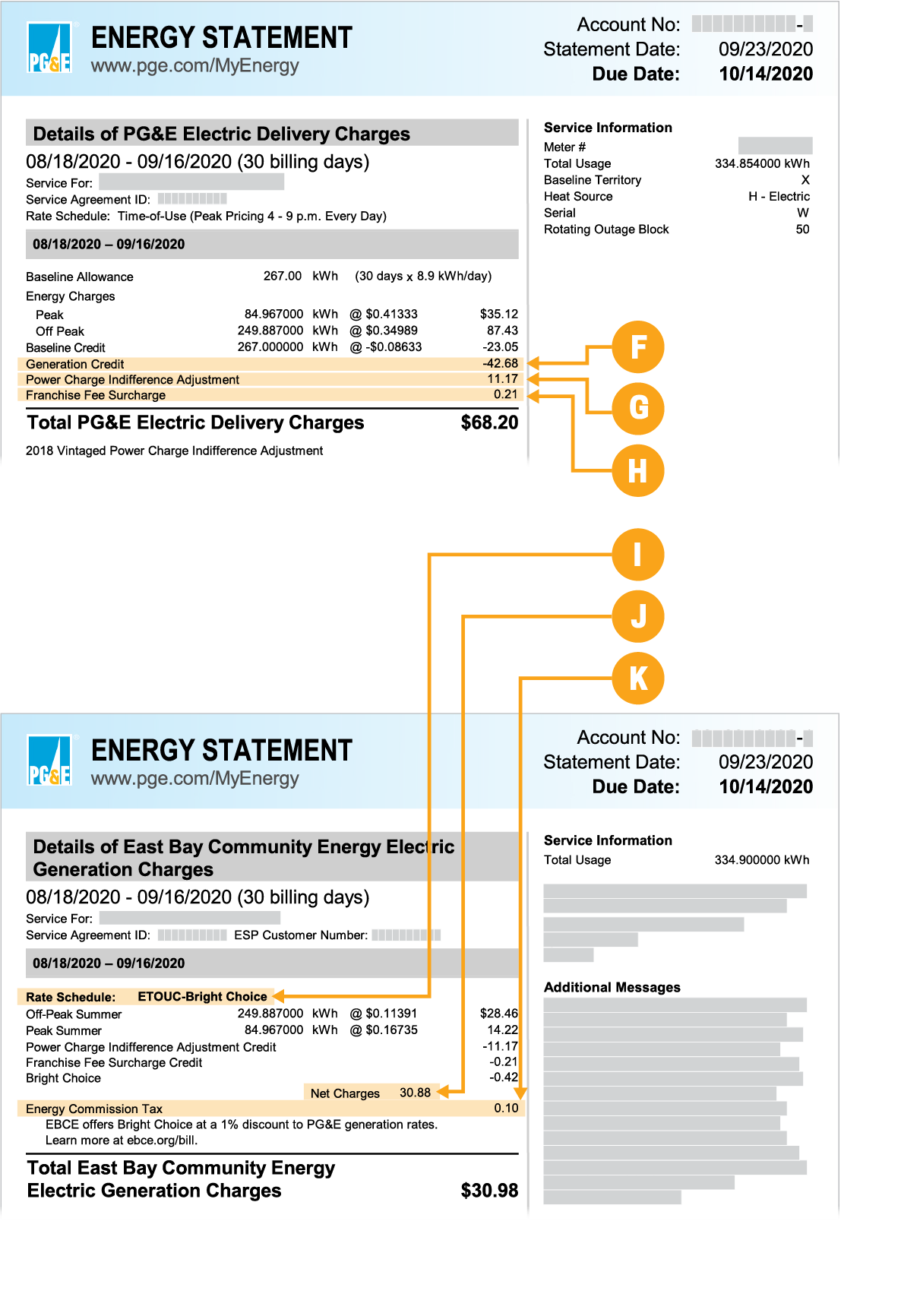 How to Calculate Your Savings