Bright Choice rates now 3% below PG&E
We've increased the discount for Bright Choice, lowered the premium for Renewable 100, and have a lot more exciting budget news.
Learn more about EBCE's 2022-2023

budget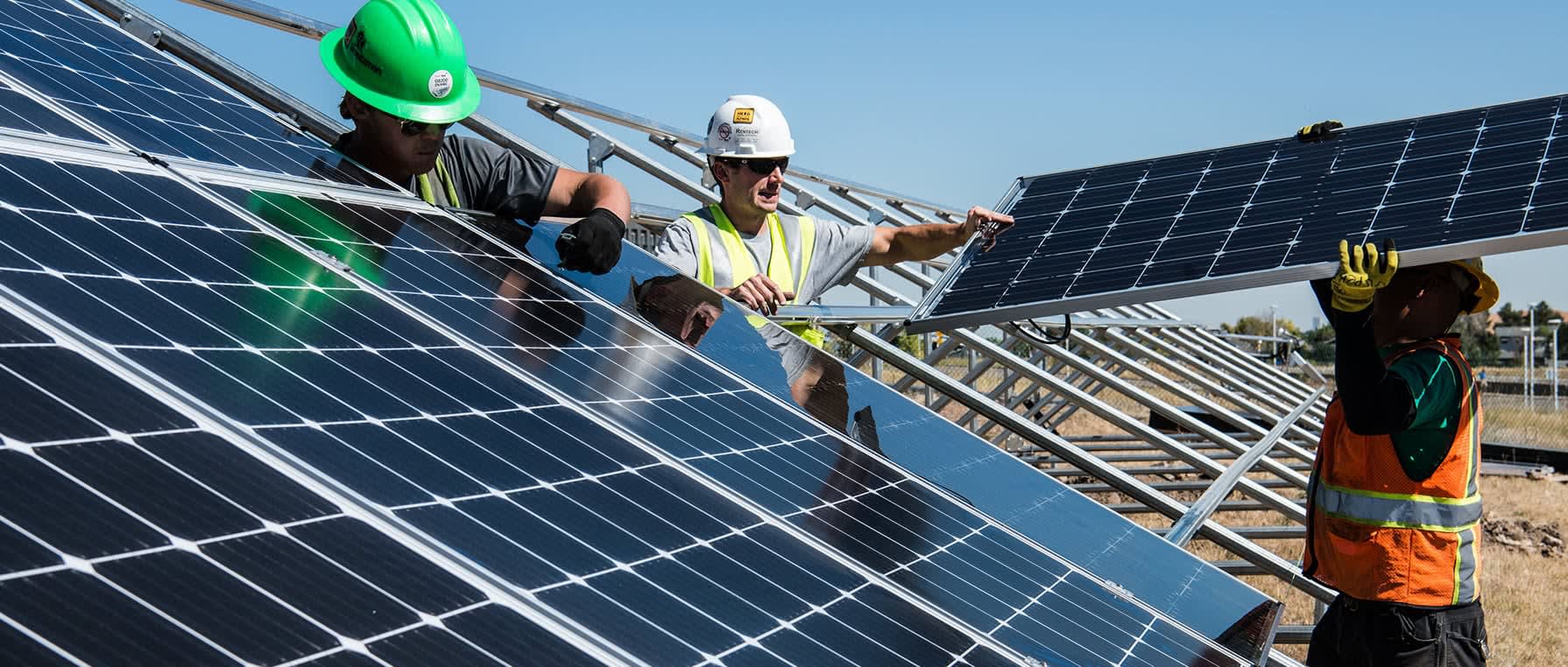 EBCE's goal is to buy power from renewable energy facilities in California that are built to supply our customers. Toward that end, in 2019, EBCE signed nine contracts to develop wind, solar, and energy storage projects that are now being built in California to serve EBCE customers specifically. EBCE continues to expand the portfolio of projects that will provide our local energy customers with greener power at lower rates. A list of our contracted facilities is below. We will update this table periodically, and plan to include photos and video of the projects in their various stages of development.
Building more renewable energy power plants also allows EBCE to seamlessly transition more of our community onto our Renewable 100 service plan, and to meet our goal of 100% carbon free electricity for all customers by 2030.
Learn more about the transition to 100% renewable energy
12

projects contracted

740+

megawatts of wind and solar

274+

megawatts of storage
Contracted
| Developer | Project Name | Technology | Nameplate MW | Storage MW/MWh | County | Online | Term (years) | Photo/Video |
| --- | --- | --- | --- | --- | --- | --- | --- | --- |
| Clearway Energy Group | Golden Fields Solar | Solar | 112 | N/A | Kern | December 2020 | 15 | Video |
| Greenbacker Capital | Scott Haggerty Wind Energy Center | Wind | 57.5 | N/A | Alameda | July 2021 | 20 | Video |
| Convergent Energy and Power | Henrietta D Energy Storage | Storage | 0 | 10/40 | Kings | January 2022 | 15 | Photo |
| Pattern Energy | Tecolote Wind | Wind | 100 | N/A | Torrance and Guadalupe (NM) | December 2021 | 10 | Photo and photo |
| Idemitsu Renewables | Tulare Solar Center | Solar | 56 | N/A | Tulare | May 2022 | 15 | Photo |
| Terra-Gen | Sanborn Storage | Storage | 0 | 47/188​ | Kern | December 2022​ | 12 | |
| EDP Renewables | EDPR Solar Park | Solar + Storage | 100 | 30/120 | Fresno | December 2022 | 20 | Development Photos 1 2 3 |
| Terra-Gen | Edwards Solar | Solar + Virtual Storage | 100 | TBD | Kern | December 2022 | 15 | |
| Clearway Energy Group | Daggett 3​ | Solar+ Storage​ | 50 | 12.5/50​ | San Bernadino​ | April 2023​ | 15 | Development Photos 1 2 3 |
| Intersect Power | Oberon | Solar+ Storage ​ | 125 | 125 | Riverside​ | January 2024 | 10+ | |
| LS Power | Tumbleweed Energy Storage | Storage | 0 | 50/200 | Kern | June 2024 | 15 | |
| Fervo Energy | | Geothermal | 40 | N/A | Churchill County (NV) | Q4 2026 | 15 | |